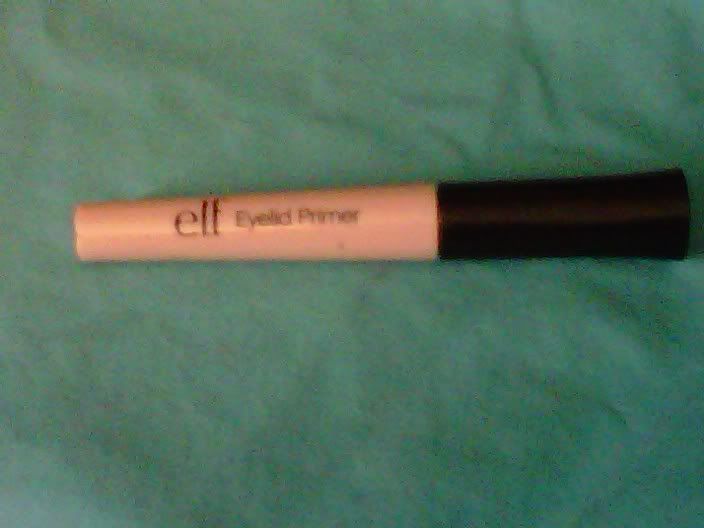 So I managed to get my hands on some of the elf cosmetics. Some I ordered off their website and some I found in my local grocery store. Some of these products are hit and miss, some are really great! So here we go!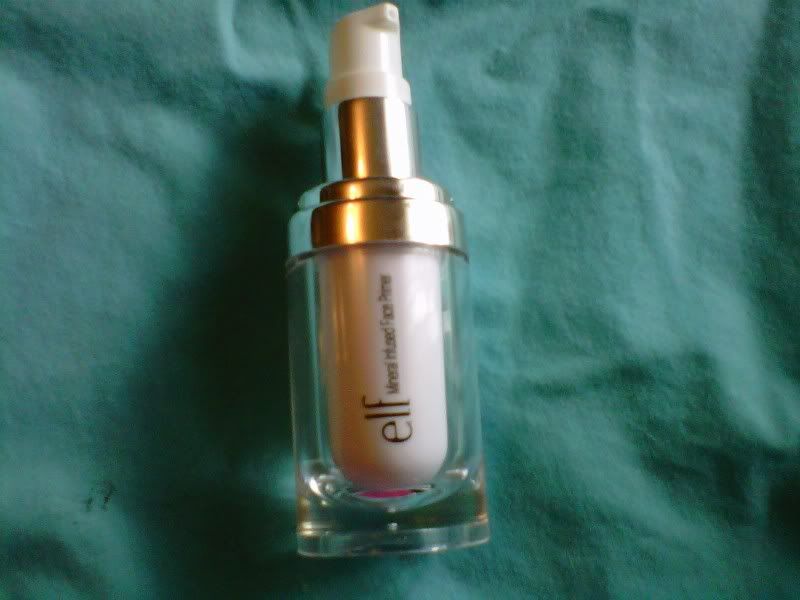 Mineral Infused Face Primer #83401
Website says:
Transform your face into a flawless and smooth canvas with the Mineral Infused Face Primer. Developed to combat against excess oil, flaky dryness, enlarged pores and fine lines. This clear multipurpose skin primer will prepare your skin so makeup goes on evenly for a long lasting satin finish.
Ingredients
:
Cyclomethicone, Dimethicone Crosspolymer, Silica, Penoxyethanol, Methylparaben, Ethylparaben, Propylparaben.
Size: .49 oz. (14g)
MY REVIEW:
I've been toying with the idea of using a face primer for a long time. I have really oily skin, plus it's summer time right now and my make up will never last very long, especially if I'm at work sweating half the day. I'm lucky if I got a couple of hours out of my makeup.
So anyway since I was on a shopping spree on their website, I decided why not? I got this along with the setting spray which I will talk about next. But on to my review. I must admit, I've only used this stuff a few times (maybe 3), and here's why: I find it to be incredibly greasy feeling when I apply it. It comes out as a gel, but the second I feel it hit my skin it feels really unpleasantly greasy film, almost like hair gel feels, on your hands after you use it. I'm not sure if it makes my face any more oily by the middle/end of the day, but the feeling when I applying it just eeks me out a bit. I think it still does the job, but I have another primer by Hard Candy that I like and it doesnt have as much of the greasy effect (I'll talk about that product in another review sometime). I don't think it's necessarily a BAD product, but I think I would recommend it more for people who have normal to dry skin rather then people like me with super oily skin. I think I could run an oil rig on my face sometimes, for real! I've also not used this product enough times in a row to find out if it will cause me breakouts or not. I tend to have really sensitive skin (along with the oil issue) so I do break out easily. But because I haven't really used it several days in a row, I can't tell you how it affected my skin. Not sure I would buy this again, at 6 bucks--I dunno, I could spend another 2 and get the less greasy primer I'm using now. But it was worth the gamble.
SETTING SPRAY
Bottle says: Make up Mist & Set. With Aloe, Green Tea, Cucumber And Vitamins A, C & E


#85023
Website says this:
"Wish you could have a product for your makeup like Hairspray is for your hair? Well…keep your makeup staying in place all day with a radiance boosting invisible hold with our new Makeup Mist & Set. The invigorating mist moisturizes and soothes the skin with key ingredients Aloe, Green Tea, Cucumber and Vitamins A, C & E. The lightweight, comfortable and alcohol free formula improves makeup wearability and prevents color from running or fading."
Ingredients
:
Water (Aqua), AMP-Acrylates/Allyl Methacrylate Copolymer, Propylene Glycol, Aloe Barbadensis (Aloe) Leaf Juice, Green Tea (Camelia Sinensis) Extract, Cucumis Sativus (Cucumber) Fruit Extract, Magnesium Ascorbyl Phosphate (Vc), Tocophryl Acetate (Ve) Retinyl Acytate (Va), Phenoxyethanol, Methylparaben, Ethylparaben, Butylparaben, Propylparaben, Isobutylparaben.
Size: 2.02 oz.
MY REVIEW:
This Stuff has some pro's and con's for me. Although I must say, the pro's absolutely outweigh the cons. I use this stuff every single day that I wear makeup. I must say it does keep my makeup on longer! I used to only get about 4 hours out of my make up if I wasn't sweating too much. I can now get about 6/8 hours out of my makeup even if I am sweating (like work or running errands in the heat). Basically you just spray this stuff on your face after you apply your makeup. I usually use 2-3 squirts of this stuff depending. I will say, I use this stuff BEFORE I put on my lipstick because I don't like the way it makes my lipstick feel, but it really does help the rest of my makeup stay on well through the day, and that is with NO touch ups. I usually don't have time to touch up my make up at work so that's definitely saying something for me! And I also have really really oily skin so nothing usually lasts too long on me. The biggest con that I have with this product is that when I do sweat when I'm working or running a lot of errands in this heat wave we're having, this stuff tends to make my skin itch a little bit. It tends to feel like there is something sitting on my face and it itches just a tiny bit. I'm not sure if it's one of the ingredients in it or what. Once I stop sweating and get a chance to settle down the weird heavy/itchy feeling tends to go away. So I'm thinking its just my pores trying to sweat but they're kind of *blocked off* from this spray. I'm not really sure what's going on with it, but I just ignore that feeling because I've had no breakouts from it (like I would expect if it was clogging my pores) and it works really well. Definitely worth 6 bucks!
EYESHADOW PRIMER
elf Eyelid Primer in Nude# 7501


Website says:
Preps your eyelid for smoother, longer-lasting and crease-proof eyeshadow. The ultra sheer nude color works to increase eye color longevity. The lightweight liquid formula quickly absorbs into the skin for comfortable wear.
Cyclopentasiloxane, Octyl Palmitate, Disteardimonium Hectorite, Dimethicone, Kaolin, Triacontanyl PVP, Propylene Carbonate, Titanium Dioxide, Barium Sulfate , Iron Oxides (CI 77491, CI 77492, CI 77499), Mica (CI 77019).
I also love this stuff! As I keep saying (REPEAT REPEAT..haha) I have never tried any other brand of eye primer so I really have nothing to compare this to. However, this product does seem to make my eyeshadow last longer, and it doesn't crease anywhere near as bad as it used to on me. I have super incredibly oily lids so this stuff only helps me for about 6 hours, then depending on the shadow I will begin to crease/fade a bit after that but its much better then the 2 hours I would get out of my shadows prior to this! Someday, I may shell out the money for some Urban Decay Primer Potion, but until then this will definitely do for me! And if I use the mist and set it adds about another hour to my eyeshadow life, which I usually do. So until I become rich and famous (or get some bills payed off), for a dollar--this will be my eyeshadow primer of choice.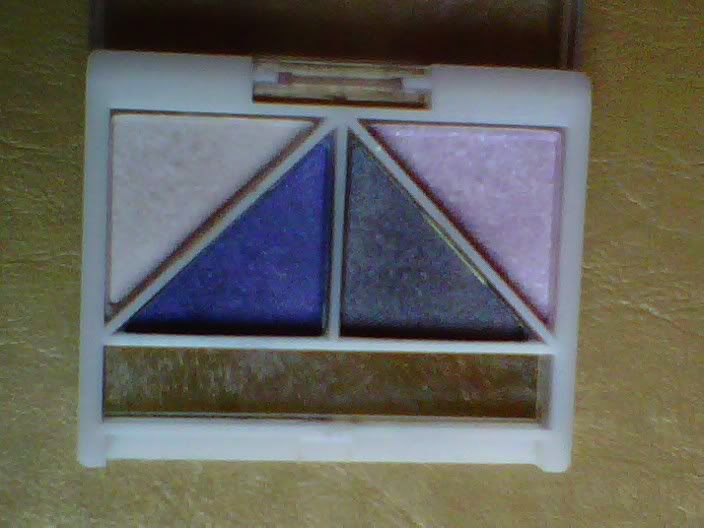 Brightening Eye Color: Silver Lining #2003
From left to right these colors are:
1. A very very light pink (almost white) a warm color and very very shimmery
2. a blurple color, very bright purplish blue color, the mattest color in this quad
3. A dark brownish grey color, also shimmery
4. A pinkish color, with cool purple undertones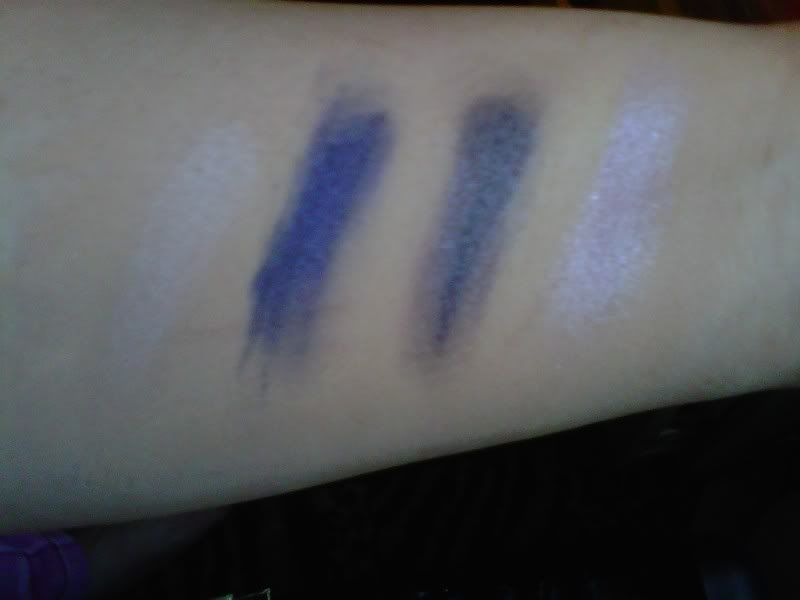 Colors from left to right as they appear in the palette (using foundation as a base)
Again, I must admit, I haven't experimented too much with this palette. I have used them all but only to mess around with looks, but not too much with long wear/going out. I do love to use the purpley/pink in the top right as a highlight color on my cheeks. And I've used the light pink in the top left as an eyelid color and a highlighter on the eyes. Although on the eyelid it didn't have as much staying power as I would have liked. I would recommend these palettes to beginners or if you want something fun to play with when you're just running a few errands or hanging around the house, I'm not sure of their ability to last for a night of partying or a day of work. Perhaps with a better primer they might work better? But for a buck, eh who cares, right?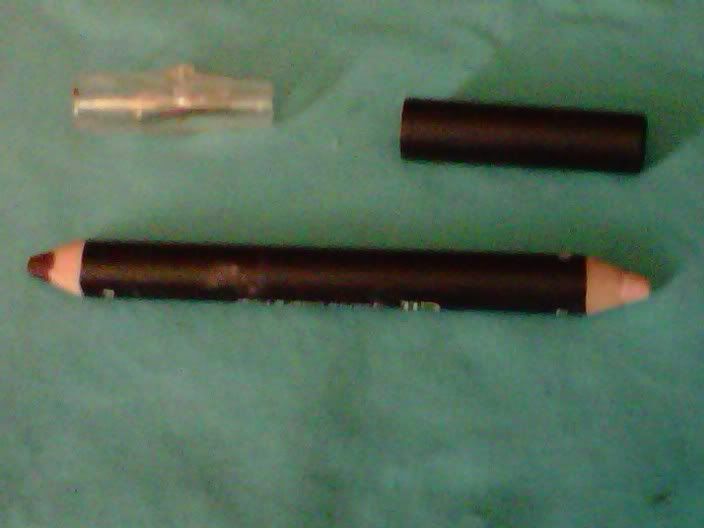 Eyebrow Lifter And Filler : Ivory/Dark #81603
This product is 50/50 for me. I absolutely love the highlight on the right. I just color it in below my brow and it blend it a bit with my finger tip and its a beautiful light pinkish/nude highlight color. However the product on the left, I have a bit of trouble with. It's a very very heavy color. When I do use this product I have to use a very light hand or I end up looking like my eyebrows are crazy drawn on (think old holywood, Joan Crawford type). I also find that it leaves a bit of a waxy residue on my eyebrows..not sexy. So I do use it occasionally if I'm too lazy to fill in with powder but I have to be extra super careful with this product. The highlight is AMAZING though, and worth the 3 dollars just for that.
LIP DEFINER AND SHAPER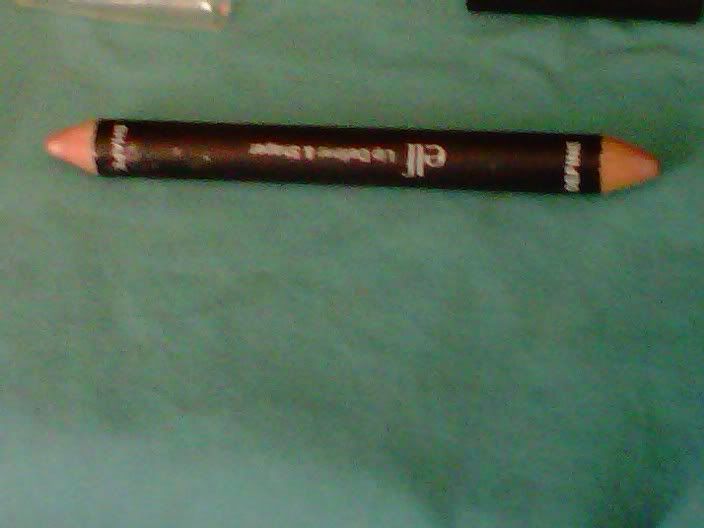 Lip Definer and Shaper(Definer on the left, shape on the right) Natural/Nude #82301
Swatches: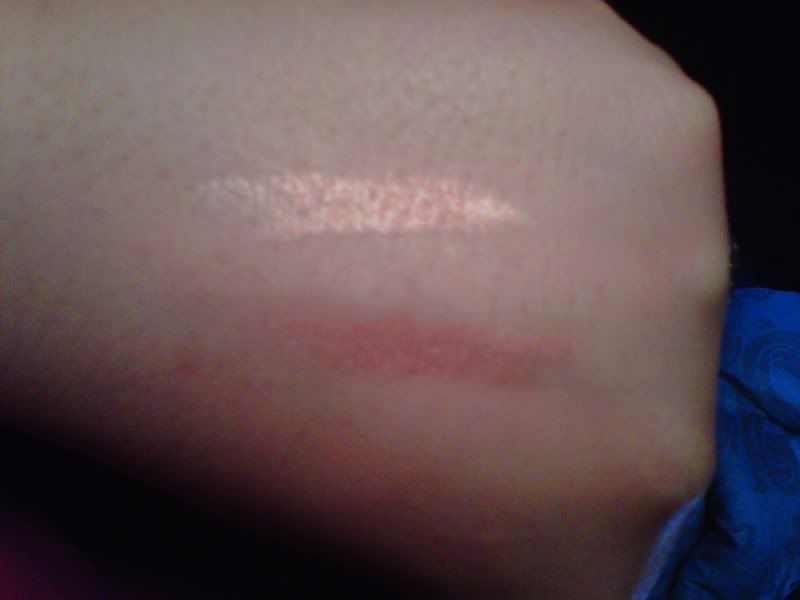 Shaper on top, Definer on the bottom
Ok so I bought this one at my local grocery store (where I work actually..ha). And it was a couple bucks (minus my employee discount). I haven't had much of a chance to mess with this product. But I did do some swatches and I'm gonna mess around with it tomorrow maybe and give it a try and see what I can come up with and I will be back to edit this and let you guys know what I think.
BLUSH/CONTOUR DUO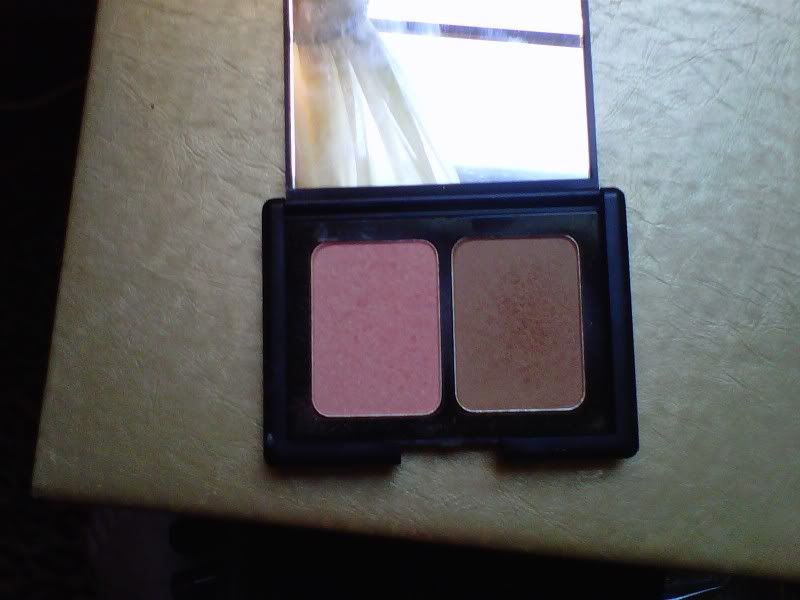 Contouring Blush and Bronzing Powder: Blushed/Bronzed #83601
I really really really like this product. From what I heard it is a Nars dupe for Laguna/Orgasm Duo. As I've said, I've not used the high end *equivalent* so I can't really compare them. But I do love this duo, I use it almost every day. I use the blush daily, and I do also use the bronzer/contour a lot of the time as well, it just depends on the look I'm going for. I do ADORE this blush though, probably the most beautiful blush color I've ever owned <3, I'm in love!
So all in all, my must haves from elf (that I have so far) with the cosmetics, is definitely the mist and set, the eyelid primer, the blush/contour duo, and the brow pencil (if nothing else then for the highlighter!!). The other products I can use but are not *must haves* as far as I'm concerned.
Well ladies and gents, it's been a super long day today so I'm gonna jet off here. If I get around to it, I will add my avon and NYX eyeshadow reviews tomorrow. Goodnight my fashionistas!
Gypsy