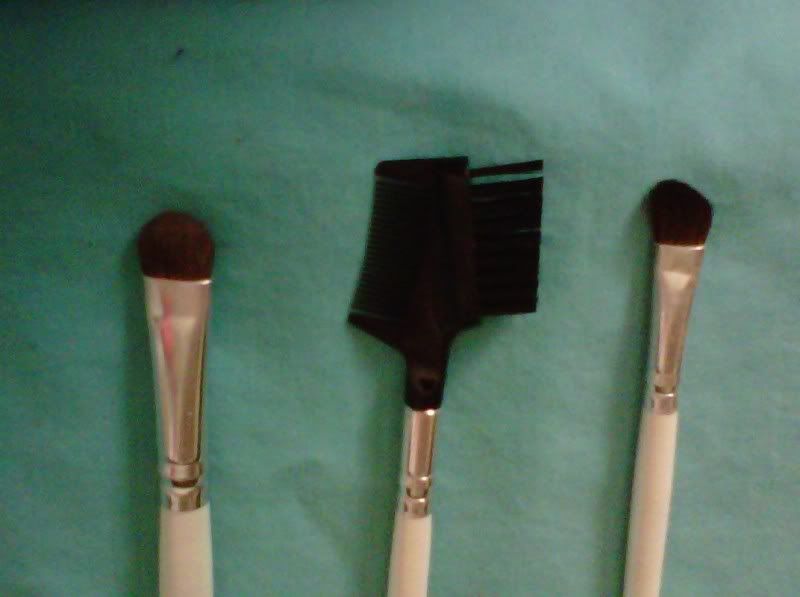 I've decided to start my long list of product reviews with my E.L.F order. I'm splitting it up into 2 categories so that you can get a good review on all the products and its not one HUGE review. The first review is gonna be for my elf brushes. I ordered the set of 12 brushes from the essential line (which is the 1 dollar line). I've been using them since I received them in the mail last month. Now I must admit, I am a newbie makeup junkie and these are my first brushes that I've used, therefore I have nothing to compare them to >.< . But even at that, there are a few that I just did NOT like, and some that I actually really do like (as a beginner anyway). So before I start rambling, I'm just gonna jump right into it. I grouped my brushes into groups of 3 and I will be reviewing each group following the picture.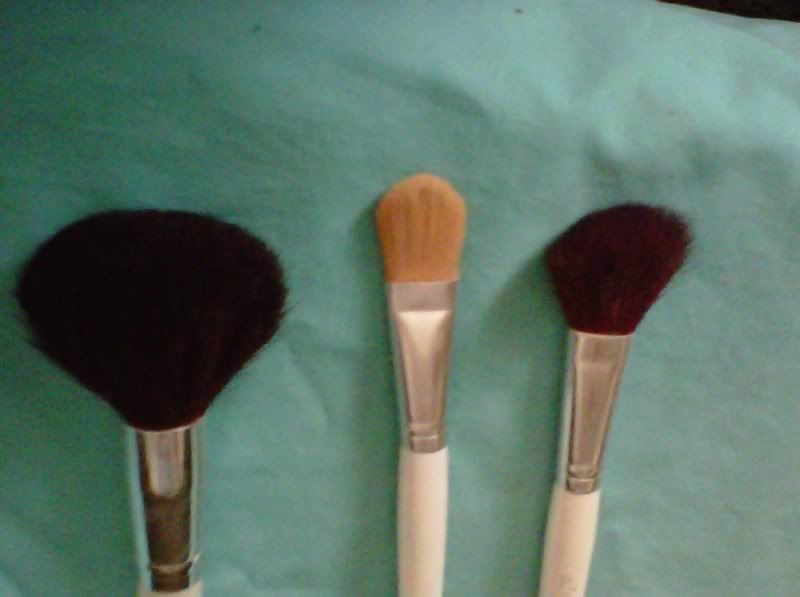 L to R: All over Face Brush, Foundation Brush,Blush- Bronzing and Blending Brush



All over face brush
- this brush isn't HORRIBLE, but it's definitely not the best of the bunch. It's a little bit rough and scratchy for my taste. I also find it not quite dense enough (it's kinda flimsy) for me. I have used it, but I have another face brush that I usually grab for before this one.
Foundation Brush
- This brush works pretty good for me, it took a couple of uses to get used to it, and sometimes I still revert back to using my hands because it's what I've always done. But I do find it gives me more of an even and flawless coverage if I use this as opposed to my hands. I have also found it works pretty well to go in circles instead of back and forth, when I used it in back and forth sweeping motions, it tended to cause streaks in my foundation. So I dunno, maybe my technique just sucks?
Blush-Bronzing and Blending Brush
- I actually do happen to like this brush. Again I've never used brushes before, so it took some practice to get the hang of contouring and properly applying blush with a brush (hahah blush with a brush, say that ten times fast!). But I am getting the hang of it slowly, and I must say my makeup looks so much more professional using brushes as opposed to what usually comes with a product (those little things that usually come with blush are HORRIBLE to me now!)
L to R: Eyeshadow Brush, Brow Comb and Brush, Defining Eye Brush






Eyeshadow Brush - I LOVE this brush. It could be my inexperience with other brushes, I'm not really sure. But I find this brush picks up a lot of product and actually packs it on really well for me. I know I've not used products like mac or whatever, but I really think this brush is amazing. But then again, anything is better then them little spongey applicators that come with eyeshadows. Also, on days when Im in a hurry, I actually can use this brush to do my ENTIRE eye makeup look.
Brow comb and Brush - I could take or leave this brush, but since it came in the brush set, I guess I'll take it. However I never use it. I don't see the point in them and they don't really do much for me, but if I was going to buy one, I'm glad I bought one for a dollar.
Defining Eye Brush
- Now this brush I do use, but I'm not sure if I'm using it correctly because I just never get a good look with it. I'm pretty sure its for the crease, but I just don't like it much. It's very flimsy (not firm or dense enough) and I just can't use it very well. But maybe someday I'll keep working with it and see if I can use it. Or it just may not be a very good brush. *shrug* I have nothing to compare it to, so there ya go.
L to R: Smudge Eye Sponge, Lip Defining Brush, Eyelash and Brow Wand



Smudge Eye Sponge - Ok, so I'm not sure how I feel about this little guy. I've used it before and it does kind of work, but I find it REALLY REALLY irritating to the skin, its definitely not *spongey* its very firm and rough on the delicate eye skin. I suppose it gets the job done, but I actually just use and old sponge applicator from an eyeshadow, it's a lot softer then this thing! (and finally a use for those annoying little things that collect in my drawer!)
Lip defining Brush - Ok so this thing, I really don't like at all. I've used it and it won't really pick up much color unless its a SUPER soft lipstick and its not very firm either. The WORST thing about it is, the bristles or hairs aren't even cut equally in length, there are a few stray hairs that are WAY longer then the rest and its just not good for application. But alas, it came with the set so its in with my other brushes.
Eyelash and Brow Wand - Another useless tool as far as I'm concerned I never brush my lashes or my brows so it just sits there. I tried to use it one day when I had gotten my mascara super clumpy just to brush them out and it just made an even bigger mess. So I dunno, I just don't like this one either :/ .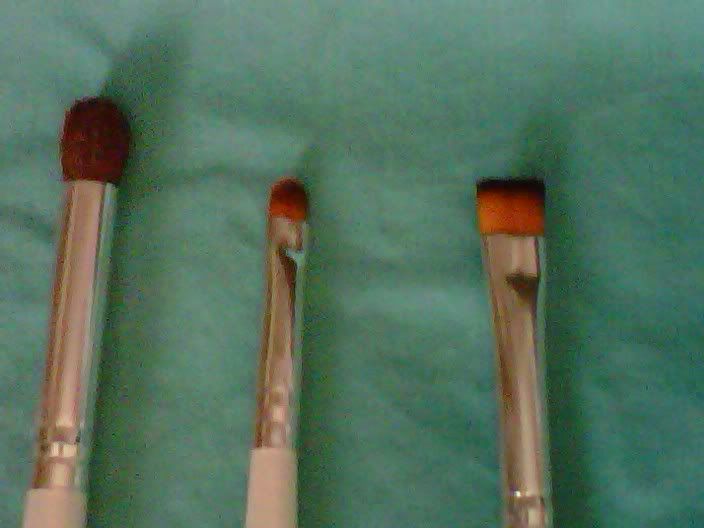 L to R: Blending Eye Brush, Concealer Brush, Eyeliner Brush
Blending Eye Brush - I love this blending brush! It worse great for the crease (be careful it can be kinda thick if you have a heavy hand), and I also definitely use it as a blending brush as well and it works uber wonderfully for that too! LOVE it!
Concealer Brush - Ok so this might work tiny little blemishes, but it's DEFINITELY not good for under eye circles as you would be there forEVER trying to blend it in together. I actually use this brush to shape my brows with eyeshadow.
Eyeliner Brush
- This is obviously a straight eyeliner brush (not angled at all), and I actually find it quite difficult to line my eyes with this. I've never used an angled eyeliner brush, but I think it would work A LOT better then this. What I actually use this brush for is to apply a bit of black eyeshadow OVER my liner in my water line to set it for the day. Now this isn't the best trick ever if you wear contacts like myself, but sometimes I live with it just because it does create a great effect for a dark eyeliner on the waterline!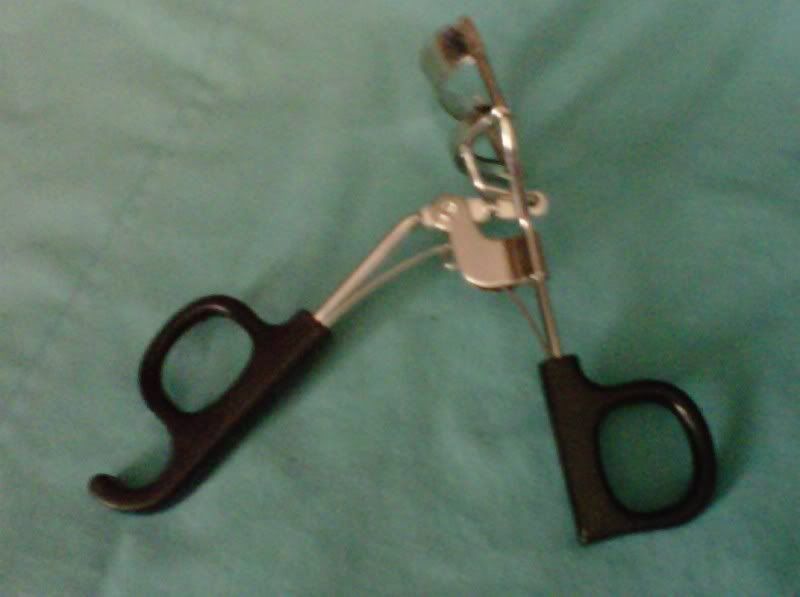 Eyelash Curler (duh!)
Ok so I have been afraid to use an eyelash curler for many years. It looks like a torture device and it scared the crap out of me. But I decided to face my fears and buy one (it was only a dollar!). Boy was that the best decision I have EVER made! When I got this little baby in the mail I tried it out and it makes my lashes look so much longer! I have long lashes anyway, but when I use this and some good mascara I look like I have falsies on! Oh and this thing has a tiny little spring thing in it so that I can get a nice tight grip on the eyelashes and get an awesome curl!
So In conclusion. My favorite steals from this group of my elf products, I must say are the Eyelash curler, the eyeshadow, foundation, eyeshadow blending, and contour/blush brushes! I think these are all a great buy for a buck, and I use them all every single time I apply makeup. So there ya go my fellow fashionistas! Let me know if you guys have any of these brushes or tools and what you think of them, in the comments below!
Love and giggles,
Gypsy